Cajun Chef Tabasco Peppers 6 oz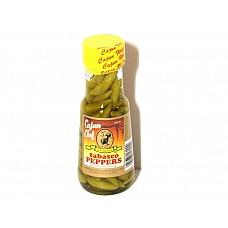 $

2

90

---

2 or more $

2

45

12 or more $

2

28
Have A Question For This Product?
There are no questions for this product.
Description: We use specially cured green tabasco peppers packed in a spiced vinegar. Used in seasoning on all cooked green vegetables. Great for bringing canned or frozen vegetables to life! May be refilled with stock vinegar as needed.
Unit Size: 6 fl oz. (177mL)
Check out our delicious Turducken products for your holiday gathering! Or, for your next spring party may we suggest throwing a crawfish boil or shrimp boil. You may want to add some boudin and andouille, to spice it up! Let CajunGrocer serve your Creole and Cajun food needs.
Default
Discount
Yes
Nutrition Data
0
Size
6 fl oz. (177mL)
Related Products